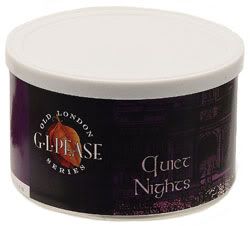 One of the most overlooked challenges when it comes to creating a new pipe blend is the process of naming it. While it's true that a 'baccy by any other name would smoke just as sweet, the title can set up your expectation and can create a new experience. In some cases, a name can even recommend when to enjoy the tobacco.
Such is the case with G.L Pease's Quiet Nights. As it says on the tin, it is "rich, deep, contemplative", perfect for those relaxing evenings with a book, a drink, a loved one, or all of the above.
For blends as complex as this Oriental composition, it is sometimes best left up to those with the necessary experience to provide an apt description. Michael J. Glukler, under the name "briarblues", has that experience and uses it to provide an excellent and informative review of Mr. Pease's Quiet Nights.