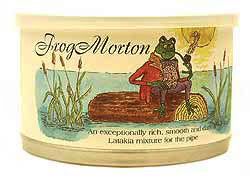 I'll admit it, I like any blend inspired by Lord of the Rings before I've even tasted it. Just the allusion itself is enough to get my literary geek-senses tingling.
In the case of Frog Morton, blended by McClelland Tobacco Company, the mixture is great on its own merits. The blend is earthy and spicy, much like the town that inspired the title. Frog Morton has a reputation for being one of the "stinkier" of Englishes for those sitting in the room. For the person smoking the blend, however, it is nothing short of perfection.
To get a better idea of the all wonderful qualities of this blend, check out "themightypen"'s very well written review of McClelland's Frog Morton. As he says: "This is one you will crave"!