St. Patrick's Day is coming up soon and, if you're anything like me, you might already be contemplating what 'baccy will accompany your Guinness and Jameson and overall revelry.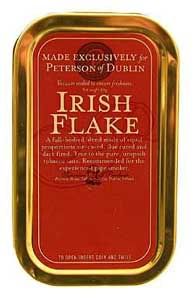 If I might make the humble suggestion that you check out Peterson's Irish Flake, if you have not already done so. Not only does it have the benefit of having "Irish" right in the name, along with being made by the best known Irish name in the world of pipes, but it is also one heck of a blend.
It is a strong, rich, and creamy blend, one that needs to be treated with respect, much like a bonnie Irish lass. If you treat her right, however, she will do the same. You will get hints of coffee, leather, chocolate, and nutty flavors, perfect flavors to compliment your celebration.
To find out more about this stellar smoke, check out the review of Peterson's Irish Flake. In fact, just because we like you so much, we have two great reviews there! One is by "Schmitz Bitz" and the other is by "bobt"; I am sure that both will seal the deal for this being your St. Patty's Day smoke!